The Center for Surgical Weight Loss
Resources and Support
Get trusted information about surgical weight loss (bariatric surgery) to help you decide whether this type of surgery is for you, and to explain your options from pre-surgery through recovery.
Browse our Surgical Weight Loss Center Health Library
Understanding Obesity
In many ways, obesity is a puzzling disease. How the body regulates weight and body fat is not well understood.
Obesity and Health Problems
Obesity puts you at risk for other health conditions, from type 2 diabetes to sleep apnea and gastroesophageal reflux disease.
Treating Obesity
Weight loss is the goal in obesity treatment. Your treatment depends on your age, health, medical history - and how much weight you need to lose.
Bariatric Surgery
Bariatric surgery should be used only in select cases. These are major surgeries that involve bypassing a part of the small bowel.
Lifestyle Changes
Cutting back on calories and fat and starting an exercise program are two proven methods to successful weight loss.
Children and Obesity
More than 9 million children between the ages of 6 and 19 are overweight. And a teen who is overweight or obese is likely to remain so as an adult.
Our Team
Dr. Heider first became interested in bariatric surgery because it is a field of surgery that requires the utmost surgical skill. His team enjoys it for the same reason.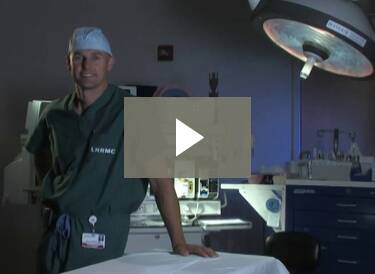 Dr. Heider and the Lake Norman facility recently were awarded the Bariatric Surgery Center of Excellence (BSCOE) by The American Society of Metabolic and Bariatric Surgery. The BSCOE designation enables patients to distinguish specific providers who have met the requirements for delivering high-quality perioperative and long-term follow-up care from those who do not.
Dr. Heider received his medical degree from the University of North Carolina School of Medicine and completed his surgery training at University of North Carolina Hospitals in Chapel Hill. While at UNC, he participated in a variety of advanced minimally invasive and laparoscopic procedures, including laparoscopic gastric bypass, gastrectomy and esophageal surgery.
Dr. Heider is a certified LAP-BAND Total Care ChampionTMand board certified by the American Board of Surgery. He has also published numerous articles and completed extensive research in the area of advanced laparoscopic surgery.
He was the first Charlotte-area surgeon to perform single-incision, "scarless" bariatric surgery and is one of only a few surgeons in the nation with the advanced training to perform the 90-minute procedure.
Tammy Beck
Practice Manager
Tammy comes to us from Mooresville Surgical Associates, where she has been employed since 2004 and served as Practice Manager for over five years. Tammy is a native of West Virginia where she attended Southern West Virginia Community College before relocating to North Carolina and graduating from ECPI College of Technology. She has worked in the medical field for over 15 years. She has been associated with Dr. Heider from the beginning of his bariatric program and is now located at the Center for Surgical Weight Loss full time. Not only is Tammy part of the team, she has also had bariatric surgery, which helps her to understand all aspects of the bariatric program. Tammy will be able to assist patients with their financial concerns along with providing empathetic support during their weight loss journey.
Amanda Downs, MS, RD, LDN
Nutritional Services
Amanda is a Registered and Licenses Dietitian. She has a Master's Degree in human nutrition and is a member of the American Dietetic Association and Charlotte Dietetic Association. She earned her Bachelor of Science degree in Physical Education, Health and Sports Studies from Miami University in Oxford, Ohio. Amanda completed a dietetic internship at University Hospitals in Cleveland, Ohio. Amanda works with patients before and after surgery to help develop a personalized eating plan.
Michelle Sierzega, RMA
Michelle attended ECPI Medical Career's Institute in Concord, NC and graduated with honors. She then went on to pursue her Associates Degree in Applied Science, Medical Assisting and graduated Magna Cum Laude in August of 2009. Soon after graduating she earned her Registered Medical Assistant Certification through the American Medical Technologists. She started her career at Mid Carolina Cardiology for 1 year and then went on to pursue a career in bariatrics with Dr. Heider. Michelle assists patients through all phases of the weight loss journey. She is empathetic to the struggles patients face and is very supportive since she too has struggled with her weight.
Bobbie Brown
Insurance Coordinator
Bobbie attended Mitchell Community College in Statesville, North Carolina, where she studied to become a certified medical biller and coder as well as a certified nursing assistant. She worked in the Pre-Arrival unit of the Central Billing office for Health Management Associates hospitals before joining our bariatric team at The Center for Surgical Weight Loss. She assists patients through the process of obtaining insurance authorization for surgery as well as understanding the different steps of the program.
Jessica Sandoe
Administrative Coordinator
Jessica is the newest member of our team. A native of Charlotte, North Carolina, Jessica has over six years experience in the medical field. She is often the patients' first contact with The Center for Surgical Weight Loss and helps guide them through the bariatric program and beyond. Her warm smile and friendly demeanor make her an asset to our team.
Is Weight Loss Surgery for Me?
Let us help you make a decision that could change your life. This life-changing option is not for everyone. Know all the facts before making your decision.
Obesity
Obesity is a serious health condition that can interfere with basic physical functions such as breathing or walking. Those who are obese are at greater risk for illnesses including diabetes, high blood pressure, sleep apnea, gastroesophageal reflux disease (GERD), gallstones, osteoarthritis, heart disease, and cancer.
Obesity is diagnosed by determining Body Mass Index (BMI). BMI is defined by the ratio of an individual's height to his or her weight. Normal BMI ranges from 20-25. An individual is considered morbidly obese if he or she has a BMI of 40 or more; or 35 or more and experiencing obesity-related health conditions, such as high blood pressure or diabetes.
Am I a Candidate?
Weight loss surgery may be right for you if:
Your BMI of 40 or more (Use our BMI Calculator).
Your BMI is 35 or higher and also suffer from one or more health problems such as Type 2 Diabetes or Hypertension.
You have been overweigt for more than five years.
Your serious attempts to lose weight have had only short-term success.
You do not have any other disease that may have caused your obesity.
You are prepared to make substantial changes in your eating habits and lifestyle.
You do not drink alcohol in excess.
If your BMI is between 30 and 34, you may still be a candidate for surgery. We recommend that you set up an appointment with our doctors for a free consultation as soon as you have attended one of our monthly seminars.
Becoming a Patient
The best way to find out if you are a candidate for weight loss surgery is to attend one of the seminars with the bariatric team. The seminars' focus and discussions are about the program, as well as questions and answers regarding care and the insurance process.
Learn more about Becoming a Patient »
Surgical Procedures
These three common surgical options share the same results: curbing hunger and restricting intake and/or absorption for maximum weight loss. Even better, each procedure can be performed through tiny incisions so recovery is fast and virtually pain-free.
Adjustable Gastric Band
Adjustable gastric band surgery is a safe and effective weight-loss option that has been available worldwide for nearly 15 years and has gained in popularity in the U.S. over the past seven years.
The procedure consists of implanting a small silastic inflatable band around the upper portion of your stomach. The surgeon then inflates the band with saline to create a restriction. This restriction creates a small pouch with a capacity of just two or three ounces. So, after eating a small amount of food, you will feel full.
Your weight loss during the first year after surgery can range from 30 to 40 percent of excess body weight; that amount can increase to 50% in the second year.
Consider these advantages of adjustable gastric banding:
Is the least invasive surgical option
Can customize degree of restriction for ideal rate of weight loss
Can be adjusted without additional surgery
Does not involve intestine rerouting, cutting or stapling of stomach wall or bowel
Uses small incisions, minimal scarring
Reduces pain and recovery period
Has low risk of nutritional deficiencies that can be associated with other surgical options
In the case of pregnancy, your stomach size can be increased to accommodate additional nutrition needs
Helps to maintain long-term weight loss.
Vertical Sleeve Gastrectomy
Patients who don't want to have a long-term implanted medical device now have another option with the sleeve gastrectomy.
Through five small incisions, each between one and two inches long, the surgeon removes approximately 70 percent of the stomach. This new stomach has a total capacity of just three to five ounces, which means patients feel full or satisfied after eating only two to four ounces of food.
The laparoscopic sleeve gastrectomy has several advantages over the bypass:
Because the normal flow of food through the GI tract is not altered, your risk of nutritional deficiences is greatly reduced.
When the outer portion of the stomach is removed, so is the hunger hormone, Ghrelin. This significantly reduces your desire to eat.
According to published medical data, weight loss with the laparoscopic sleeve gastrectomy can be 60 to 70 percent of excess weight at two years.
Research shows 60 to 70 percent of laparoscopic sleeve gastrectomy patients maintain their weight loss six years following surgery.
No long-term risk of gastric ulcers and internal hernias with the sleeve, yet those risks remain with gastric bypass.
Gastric Bypass
Gastric bypass uses both a restrictive and a malabsorptive surgery technique. It restricts food intake and the amount of calories and nutrients the body absorbs. In addition to creating a small stomach pouch, the surgery changes the body's normal digestive process. As a result, food bypasses a large part of the stomach and most of the small intestine.
Gastric bypass surgery can be performed through an open procedure or a laparoscopic (minimally invasive) procedure. Laparoscopic surgery is performed using small incisions--and usually means a shorter hospital stay, faster recovery, small scars, and less pain than open surgical procedures. Most surgeons prefer the laparoscopic approach.
During a gastric bypass surgery procedure, the surgeon first creates a small stomach pouch and then attaches a section of the small intestine directly to the pouch. This allows food to bypass a portion of the small intestine, which absorbs calories and nutrients. Having a smaller stomach pouch causes you to feel full sooner and eat less food; bypassing a portion of the small intestine means your body absorbs fewer calories. Gastric bypass patients report an early sense of fullness and satisfaction that reduces the desire to eat.
A clinical review of weight loss surgery data showed that patients who had a weight loss surgical procedure experienced complete resolution or improvement of some of their obesity-related health problems (known as comorbid conditions), including Type 2 diabetes, hyperlipidemia [high lipid (fat) levels in the bloodstream], high blood pressure, and obstructive sleep apnea.
Becoming a Patient
The best way to find out if you are a candidate for weight loss surgery is to attend one of the seminars with the bariatric team. The seminars' focus and discussions are about the program, as well as questions and answers regarding care and the insurance process.
Learn more about Becoming a Patient »
Success Stories
The stories and videos below are great testaments of how surgical weight loss* can benefit you and your loved ones. The success stories our patients speak for themselves.
Vance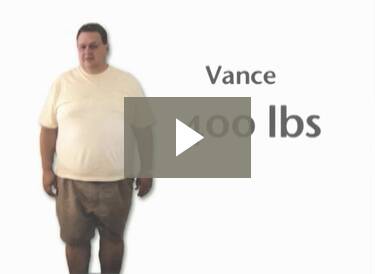 As much as he loves music, Vance's weight was getting in the way of his ability to perform. For one thing, he was afraid the stool he sat on during the sets wouldn't hold him.
So, there he was, somewhere between 405 and 410 pounds, and Vance's biggest worry was that he was looking old. Never mind that he had severe sleep apnea and "raised the roof" when he snored. Forget that he was taking insulin twice a day for diabetes, and medication for high blood pressure and high cholesterol.
Finally, his wife became the voice of reality. She asked him if he'd rather have age or life. He agreed she had a point.
Lisa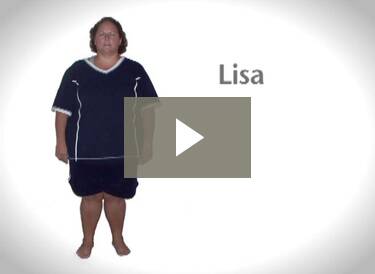 Lisa didn't like going out to eat with her family. She was always afraid they'd seat her in a booth--and she wouldn't fit. At her highest weight, she was 330 pounds.
When she went to bed at night, she'd worry about not getting up. Her fear was that her heart would stop and her body would shut down because of her weight.
At some point, she decided not to live this way any longer.
Lauren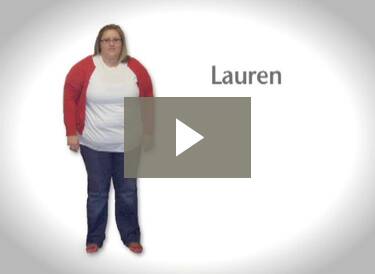 It's never fun to struggle with weight. But in middle school and high school it's even harder. There are no cute clothes that come in a size 28. Lauren's weight held her back from too many things. She made every excuse possible to not go out with her friends.
Yet she was so surprised when her doctor suggested gastric bypass surgery, she cried. She didn't realize she was "that big"...because when she looked in the mirror, she saw someone else.
Becoming a Patient
The best way to find out if you are a candidate for weight loss surgery is to attend one of the seminars with the bariatric team. The seminars' focus and discussions are about the program, as well as questions and answers regarding care and the insurance process.
Learn more about Becoming a Patient »
*Weight loss surgery: Patient results may vary. Consult your physician about the benefits and risks of weight loss surgery.
Weight-loss Expertise
If your weight is keeping you from leading the healthy, active life you've envisioned, we can help. Lake Norman Regional's comprehensive bariatric surgery program addresses the physical and emotional aspects of weight loss, offering education and support from pre-surgery through recovery. Our multidisciplinary team of weight-loss professionals provide you with the tools you need to achieve long-term weight loss.
Weight loss surgery: Patient results may vary. Consult your physician about the benefits and risks of weight loss surgery.