Emergency Medicine Center
The finest emergency care
When a medical emergency occurs, it's not always easy to think clearly but a crisis means that you need to act quickly.
Would you know what to do if a friend or acquaintance collapsed while you were there?
Knowing what the warning signs of a heart attack are and how to respond could save a life.
Many nontraumatic situations or conditions may occur and need to be handled properly.

Examples of medical situations and conditions that warrant immediate medical attention.

In an emergency, it is easy to "forget" even the most well-known information.

Here are some tips from the American College of Emergency Physicians that all members of your household should know.

In the interest of protecting yourself, it's best to learn about emergency medicine before you find yourself in an ER.
Expert Emergency Care, 24/7
Every day, 24 hours a day, Lake Norman Regional's emergency room doctors, nurses and other health care staff are available to provide you and your loved ones with expert care. Our highly trained staff can provide care for everything from cuts and broken bones to life-threatening conditions such as heart attack or stroke. We provide efficient, prompt and compassionate care, and offer:
Multi-functional treatment rooms for patients with varied conditions.
A dynamic ER design focused on providing a better experience for patients and visitors.
Highly qualified, dedicated health care professionals who are committed to the highest standards of care.
A continued commitment to keep wait times to a minimum.
ER Extra offers a better experience for patients
When you come to the emergency room, you want immediate attention. Through our ER Extra program, we work hard to make sure every patient receives high-quality care in the most timely, comfortable and efficient manner. We believe our patients' loved ones deserve the same attention to quality care, so we do our best to ensure they are well informed and as comfortable as possible. Lake Norman Regional is dedicated to improving the emergency room experience.
About ER Extra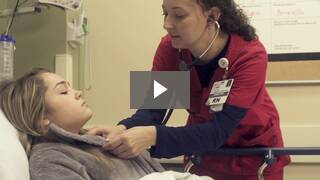 Some of the area's most experienced physicians and nurses provide emergency care to our community 24 hours a day, seven days a week at Lake Norman Regional's emergency room through our exclusive ER Extra™ initiative. All of our physicians and nurses have been specially trained to provide skilled, professional care in an emergency setting. In addition, our nurses are certified in Advanced Cardiac Life Support, Pediatric Advanced Life Support, and Stroke Care. Our emergency department has two distinct areas of treatment -- one for your minor emergencies and the other for your major health care emergencies.
To learn more about ER Extra please click on the arrow to the right to watch our video.
What's ER Extra?
We are the community's exclusive provider of ER Extra™, a new approach to the emergency room experience, designed to give you extra fast, extra easy and extra great care.
Extra fast
By the time you enter our emergency room, every minute – every second – seems like forever. That's why the clock starts ticking the moment your name enters our system at the registration desk. In general, initial assessments take place within 15 minutes of arrival. Patients with non-life threatening conditions can expect to be evaluated, treated and discharged to their home in typically less than two hours. To deliver the fastest quality care possible, the emergency room has a computerized tracking system that records every second you spend there. This data is constantly reviewed by your treatment team to streamline processes and speed up the time it takes to deliver care. The result is that you see a member of the clinical team sooner, so treatment can begin quicker.
Extra easy
Board certified doctors and highly trained staff are by your side throughout your visit. They are there to explain your diagnosis and how it will be treated, as well as discuss any follow up care you may need.
Extra great care
The best care results from excellent customer service and friendly staff members. Consistently, our team has ranked as a Top Performer relative to patient satisfaction. We are committed to treating you with outstanding care and compassion.
We can Handle Everything From Earaches to Life-Threatening Injuries
When you have a medical emergency, you count on the team at Lake Norman Regional. We offer 24-hour emergency room services led by trained emergency medicine physicians who are supported by compassionate medical and professional staff. Our emergency room is easy to access and features comfortable surroundings. We are backed by the full resources of an integrated health system offering the latest medical technology and diagnostic capabilities for adults and children.